TELL YOUR BEAUTIFUL TALE OF LOVE

with exquisitely crafted luxury rings that carry meaning and symbolism.

Are you a future bride or groom who cares about the story your special ring tells the world about you and your relationship? Of course you are.
That is why you are putting a lot of thought into deciding what ring will truly speak to who you are. You are looking for a design with a certain je ne sais quoi. Nothing mass produced, flimsy or generic. But definitely meaningful, unique, high end, couture, ethically crafted...
I know it may be overwhelming as you begin your search for the perfect rings that meet all these touch points.
Let me help you. I design for those who want their jewelry - especially their wedding rings - to be unlike all the others, to have a deeper meaning... who seek edgy elegance that reflects their individuality and their love. Feel free to reach out any time. I am happy to answer all your questions.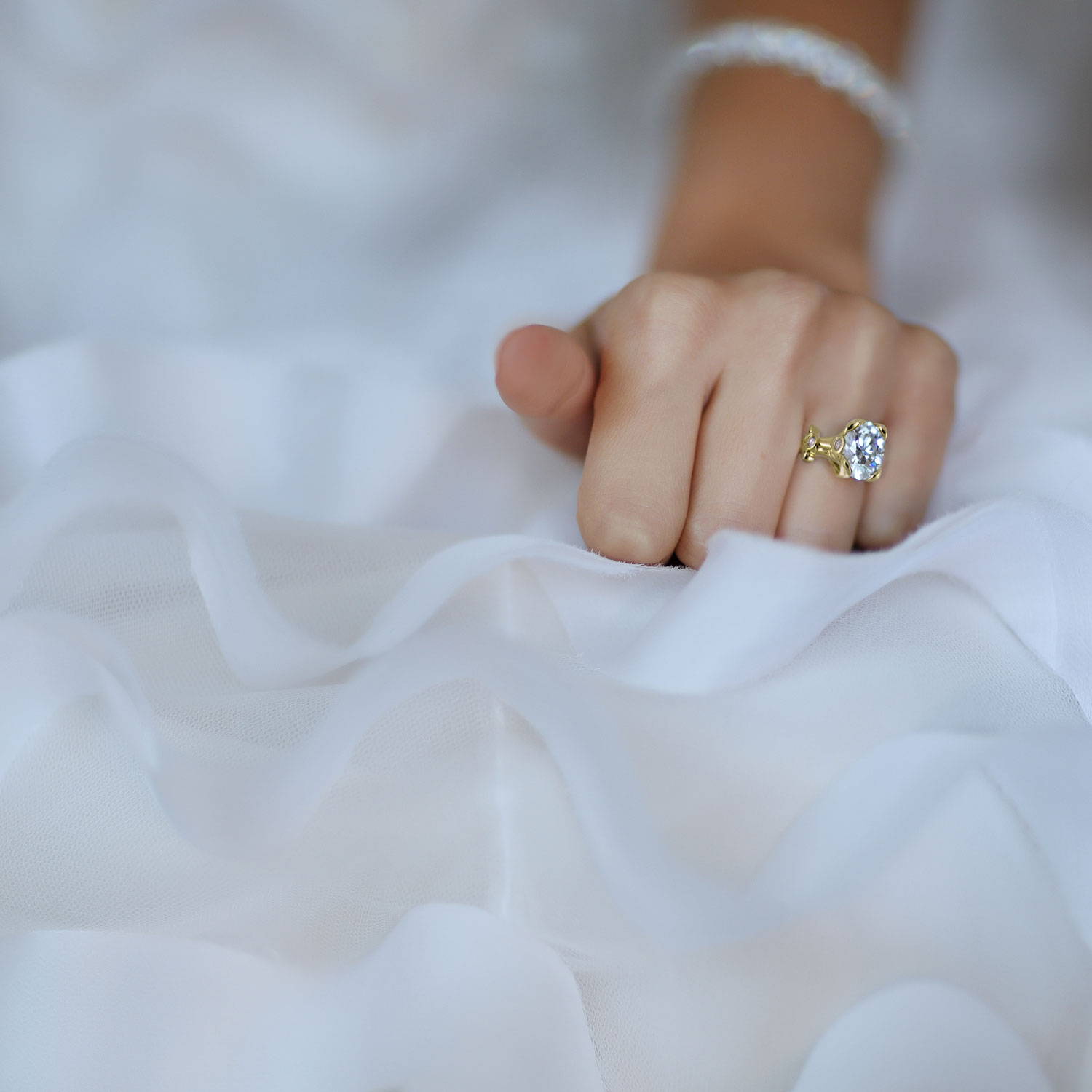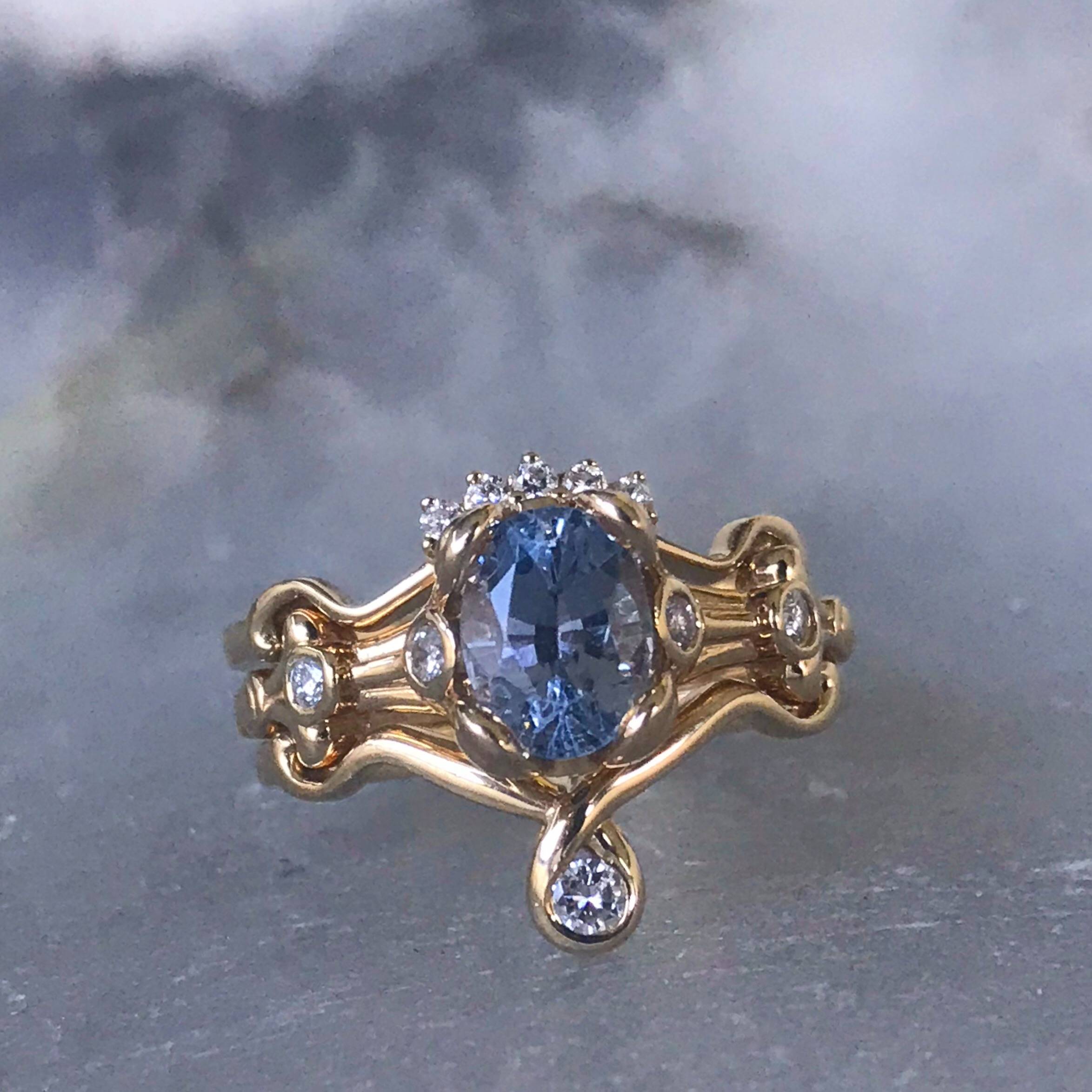 Titania Ring Set with Periwinkle-color Sapphire and VS Diamonds from the whimsically romantic gemstone collection VIVE, created for the left hand...and the right.

Are you looking for a diamond alternative? My VIVE rings are designed for women who are romantic yet strong, and who dare follow their heart. And that includes the nontraditional bride who also values luxe and refinement.

As a certified gemologist, diamond grader and lover of beautiful gemstones, I would be thrilled to help you find your prefect diamond or diamond alternative.

FREQUENTLY ASKED QUESTIONS
I really like your VIVE ring designs, but I have a special design in mind. Do you do custom engagement and wedding rings?
Yes. Please reach out to me so we can discuss your design. I would love to help you bring it to life.
How long does it take to create a custom ring?
If we custom design your rings, you should allow 6-12 weeks for delivery, depending on the complexity of your design. If you are choosing a design we have in our collections, we can create it for you in as few as 2-3 weeks.
I prefer to purchase "ethical" jewelry. Do yo create jewelry in line with my values?
Absolutely. I can offer you fair trade gold, certified 100% recycled gold, Canadian diamonds and other responsibly sourced gemstones - including an incredible array of gems mined by a women's collective in Tanzania. If you choose this option, you help lift these women, their families and communities. You know their names and their stories. A truly beautiful way to celebrate your love and make the world a better place.
All my jewelry is made in Montreal, made in Canada, by me and my team of master jewelers. The fact that we make it, rather than have it made overseas, means we know that everyone who touches your rings has safe and equitable working conditions and we create an infinitely smaller carbon footprint.
I am not sure about a diamond. What are my other options?
You have come to the right place. I am a gemologist and absolutely love gemstones. I can guide you on color, provenance (where a gem comes from), the meaning of certain gemstones, price, durability, beauty... There are so many options you may have never thought of that would make a stunning diamond alternative.
What if we buy all our wedding rings from you?
This is always a great option because we can find a design element that we can carried into the creation of all three rings. So they are a set - they become one, yet remain individual.
Also, when you commission me to create all three of your wedding rings, I offer a package deal. Please reach out to me so we can discuss.
I want my proposal to be a surprise. How do I get her/his ring size revealing my secret?
There are so many ways to figure out a ring size. You just have to contact me so we can strategize. I have a lot of tricks up my sleeve and can send even you a few "tools" to help you out.
Do you have designs for men too?
What about LBGTQ couples?
What can I say? Love is Love. And, as the proud mom of an LGBTQ kid, I would honored to create your rings for you. You have a ton of options, including custom. If you are looking for a gender-neutral design, explore my BRAVE Unisex collection.
Do have other questions about wedding rings? Let's talk live with a Zoom consultation. It is a wonderful way to connect, get to know each other, and explore your jewelry needs – no matter the distance.
K8's Bridal Designs in the Spotlight